It's the season where you'll find plenty of people visiting the beaches, wearing shorts, tank top, spaghetti straps, bikinis, wearing colours that are vibrant. Of course I don't get to see these from where I am, but in Europe, US, Asia countries with seasons, it's everywhere. Fashion is a major part of life for the people who lives at those countries as the clothing changes with the weather it's best to follow. Every year every season will feature certain design, colours that influences the fashion line, be it in make up or clothing. This year orange is the thing but not every fashion line comes out with orange. Other than that, vibrant colours are still the thing, yellow, bright green, bright red, orange red. The colour trend can be spotted in make up, nail polishes, clothes and shoes.
Every brand is bound to release a new line in the season and this year I've gotten the LesportSac Spring & Summer Collection magazine from Kinokuniya again with a free bag. I really like these magazine that the Japanese publish. Most of their magazine always come with free stuff, like fashion magazine or catalog on a brand usually gives free bags. Magazine on Japanese animation gives free t-shirts, some card collection of an animation that is feature on the front page. I like this concept because it's a reasonable price and you only have limited quantities depending on how many magazines they have printed. Here are some pictures of this magazine I'm blogging about:
The front cover of the magazine
This is how the bag is in compact size where you can fit it inside another bag.
It shows other design patterns that were available
Instructions on how to fold up the bag and store it.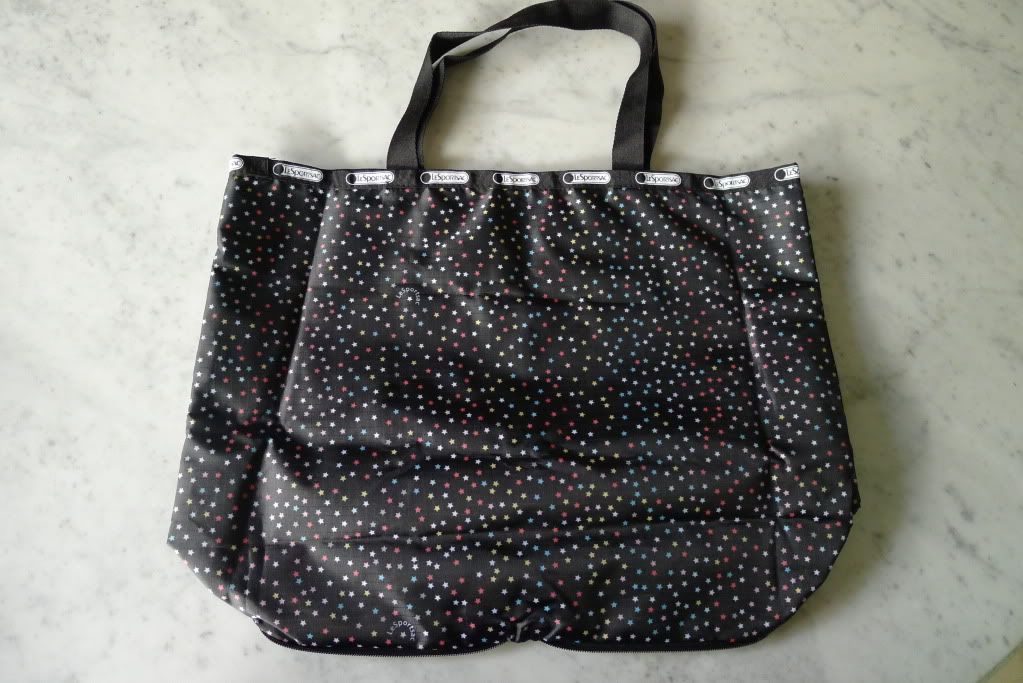 The bag in full size
Close photo of the pattern
How big the bag is inside
Model with all three designs
The model that was in the front page. Below are some of the bag designs which I really adore. It's all in the tote range which I really love the size, not too big not too small.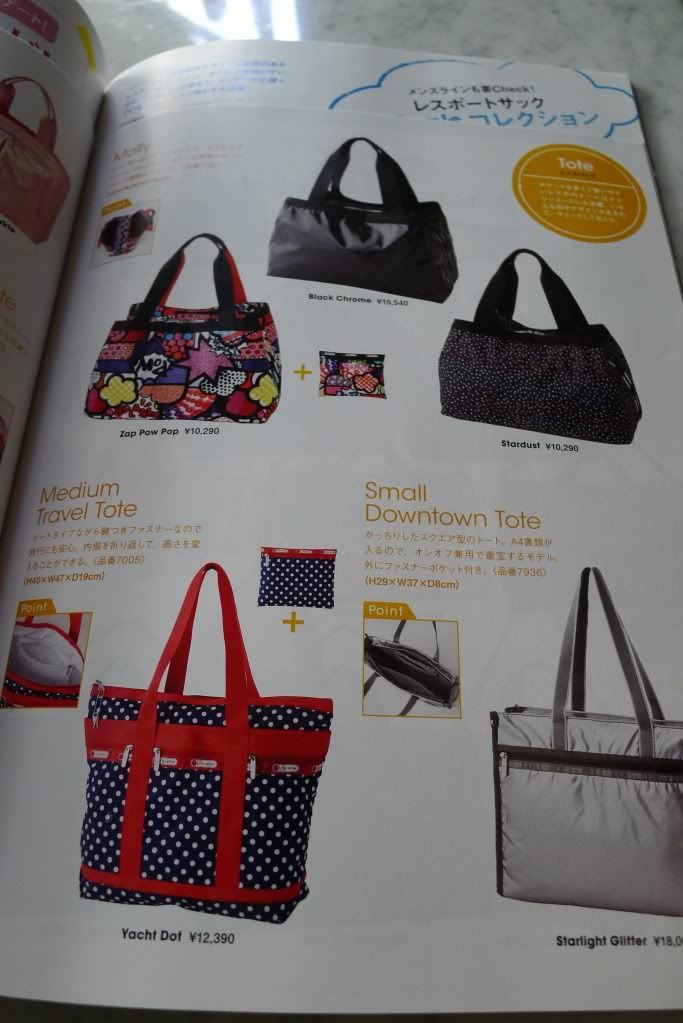 In the middle of the magazine there is a catalog on the patterns and what bag shape it is available in. I find this very informative instead of going to the shop and asking here and there. You see what you like, go to the shop and purchase it, no stress =P. For this season LeSportSac have some patterns that are really striking and some patterns that are subtle which brings out the sweet of a girl who carries it. The patterns that are simple are just so nice to look at, gives the mind a calm, soothing thought like "Ahhh I'm at a beautiful meadow", sadly it doesn't have a flower smell =P. I like the pattern I picked as last year I picked a more vibrant and eye catching pattern. This pattern is just simple and nice.